The secular and progressive Left has cemented their position of power and influence inside our American colleges:

On average, liberal professors professor outnumber conservatives by over 6 to 1. +
Even colleges that identify themselves as Christian have almost 4 liberals to 1 conservative. +
And certain departments inside our American college campuses have ratios of 20 to 1, or even 30 to 1.++
It wasn't always this way. Some of America's finest colleges, like Harvard and Yale, were actually founded as Christian colleges.
However, on many of today's college campuses, Christianity is deemed as a MYTH, and is considered to be backward, bigoted, and judgmental. THE EFFECT: Multiple sources show that almost 70% of young people will WALK AWAY from the faith or church in which they've been raised.
Sources: +UCLA Higher Education Research Institute ++CSPC study (Average) Barna Research Lifeway Research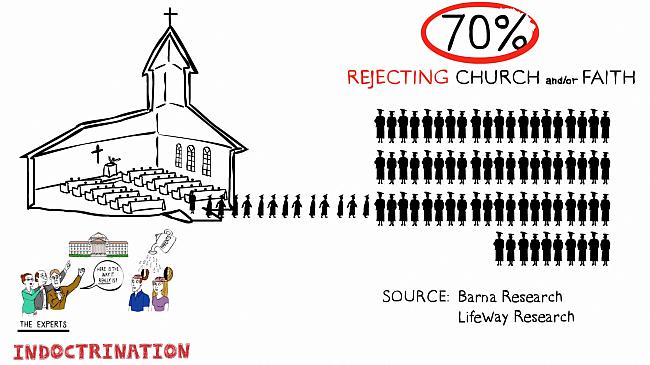 So what happened?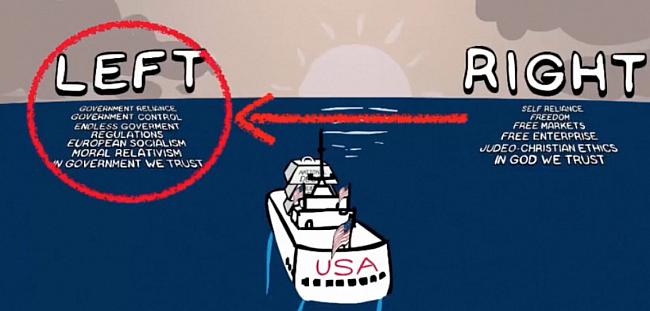 Slow shifts away from America's founding principles of liberty and freedom have been moving the country steadily leftward, toward government reliance and control. The last several elections show that America is slowly becoming more left leaning.
Most major media outlets have left leaning biases, and our public schools and textbooks are following in this same direction.
And colleges and universities lean even further left. Is it any wonder that our country is heading to a socialist type society?
Your child is inundated with this overwhelming bias every day: In the media, in public schools, and especially in college.

Will you sit back and watch as America veers off course?
Parents like you, who have carefully nurtured the worldview of your children, are placing your children under the care, guidance and instruction of the very people who are taking our country in the wrong direction: The secular and progressive Left.
There is a battle going on for the heart and mind of your child. Most professors are very open about this progressive advance.
"We are going to go right on trying to discredit you parents in the eyes of your children. We are going to make your views seem silly rather than discussable."
Richard Rorty, Princeton & Stanford Universities
"Capitalism is one of many systems of oppression"
Chenjerai Kumanyika, Clemson University
"The enemy is the United States of America and everyone who supports it."
Haunani-Kay Trask, University of Hawaii at Manoa
The average college student will spend almost 2,000 hours in lecture halls listening to various liberal messages. Your views are being made to look bigoted, backward or even silly.
But how can you talk to your child about this, when they're hearing it from experts and PhDs at one of the most impressionable times in their lives?

The results of liberal and secular bias in college
Multiple sources show that almost 70% of young people will walk away from the faith or church that they grew up in by the time they finish college.
And what happens when young people buy into the secular and liberal worldview that the Bible is a myth? Just look at these stats:
4 out of 5 college students drink. Half of those "binge drink".
Over 1,827 students die each year from alcohol related injuries.
Over 1.2 million students will be assaulted or injured where alcohol is involved.
Almost 1 in 4 women will experience a completed or attempted rape in college.
Suicide ranks as the second-most common cause of death among college students.
Young adult expert Jackie Burrell reports:
"Young students are often away from home and friends for the first time. They're living with strangers, far from their support systems, and working under intense pressure with disrupted sleeping, eating and exercise patterns. You could hardly design a more stressful atmosphere."
Never before has it been more important for our young people to know what they believe, why they believe it, and to be willing to stand their ground.

Thoughtstarter and College Prep America
Thoughtstarter is a non-profit education center whose purpose is to powerfully present a conservative and Biblical worldview through relevant and engaging media and messaging.
ThoughtStarter is made up of an ever-expanding group of individuals who bring various areas of expertise - and who are committed to informing hearts and minds to positively impact students, families, and the future of our country.

Our inaugural project, College Prep America, is a family oriented website that gives kids a positive presentation of a conservative and biblical worldview to help prepare them for the bias they will face when they enter college.
College Prep America seeks to prepare your children so they clearly know what they believe, why they believe it, and can intelligently defend their worldview.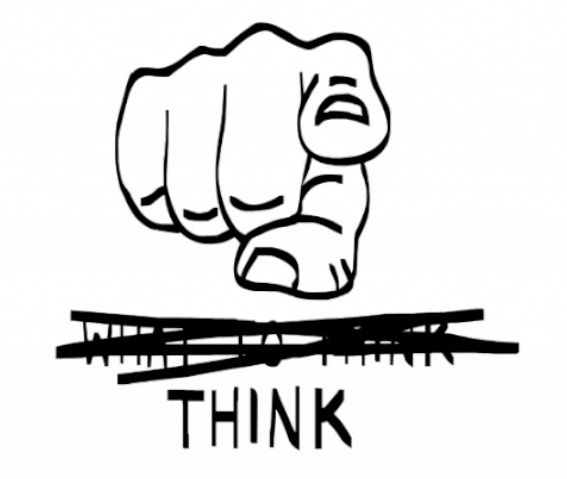 Most of us know that the arguments that can be made on behalf of a conservative or biblical worldview are incredibly powerful. But these arguments must be made in a way that truly connects with young people. That's why one of the very first messages your children see at College Prep America is this: "We are not here to tell you what to think, but to just… think."
College Prep America clearly shows teens that they don't have to accept any prescribed worldview just because it's being served to them from all angles.
With College Prep America on their side, they will be making their worldview decisions with a complete set of facts, and not just hearing one side of the argument.

What's different about College Prep America?
Most sites require an incredible amount of reading that is not communicating on a common person's level – much less than that of a student. Or if there is a visual involved, it is simply a boring lecture.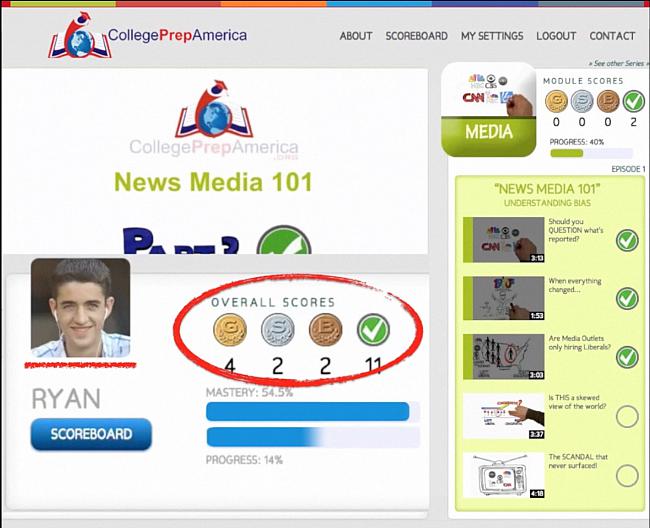 By contrast, College Prep America presents a truly comprehensive series of captivating fast draw videos which take complex ideas and make them easy to understand in only 3-4 minutes. Your family can watch them together, or your kids can watch them on their own schedule on any computer or mobile device.
It works like this: Watch a short video, receive your checkmark, and move on to the next one. Or if you're game, take a 3-question challenge. These challenges give your child "light bulb moments" to really cement the concept they've just learned.
Each student has their own unique experience, and their own personalized account customized with their own picture or avatar. Gold medals are awarded for 3 correct answers, silver for two, and bronze for one.
As they watch more videos and earn more medals, their progress and mastery bars rise, motivating them and allowing them to see headway they're making.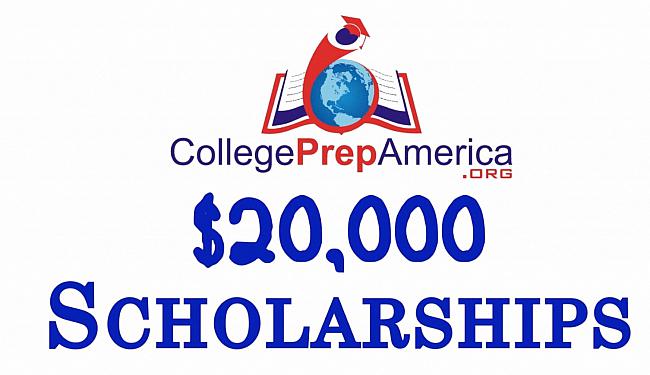 At the end of each year, we award a total of over $20,000 in scholarships to multiple winning students who complete all the videos.
CollegePrepAmerica is about making sure our kids see and understand the big picture, the times we are living in, and everything that's at stake.
It's about instilling wisdom and discernment in young people so that they can separate truth from fiction, fact from opinion, and easily disregard propaganda being thrown at them.

Ask yourself these questions:
Are your kids truly aware and prepared for the direction our country is headed?
Do they understand how bias works in news media?
Do they understand how bias enters the world of science and affects their textbooks and classroom curricula?
Do they understand that tyranny, fear, and oppression are the norm for this world, and that liberty and freedom are extremely rare?
Do they understand the underlying principles of our free market system, how jobs get created, and what has made America the most prosperous country the world has ever known?
Do they understand the values and principles of the Left, and what it truly means to be Progressive?
Do they understand the values and principles of the Right, and what it truly means to be Conservative?
Do your kids truly understand the fundamental elements of their faith?
Can they see that their faith is both logical and reasonable – historically and scientifically? Can their faith withstand the attacks presented by the experts they will encounter?
College Prep America is about nurturing the foundational elements of this hope and conviction as our kids come to truly own their faith.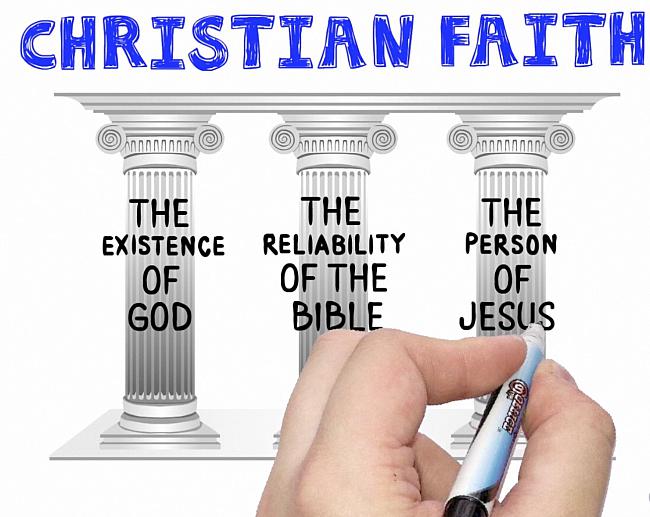 Family Interaction Bonus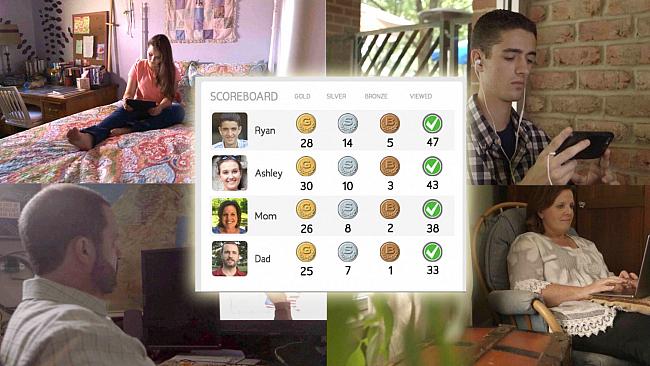 When you sign up your son or daughter, you actually get 5 accounts – including an account for mom and dad if they want. These accounts all link together into a private family account.
Our hope is that your family can all be watching videos on your own time schedules, yet learning and discussing online in your own private area, called The Buzz. The Buzz gives you updates on medals, videos being watched, and lets everyone comment. College Prep America is a tool that gets families talking, connecting them in both playful banter and meaningful conversations.

How much is your child's future worth?
A family subscription to CollegePrepAmerica includes 5 interactive accounts and may be purchased for $97. This purchase is 100% tax deductible.
However, for a limited time, we'd like to show our appreciation to our inaugural subscribers by offering a full one-year subscription to CollegePrepAmerica for only $47. This offer will end soon, so please click the Get Started Now button now.
That's less than a trip to the grocery store for:
77+ (and growing!) short, professionally created, entertaining videos guaranteed to capture your child's attention
The competitive medal system to ensure your family feels rewarded as they complete each video
The family chat room where you can issue a "Game On" challenge to everyone involved.
All this delivered on any device so you and your family can continue to connect and grow anytime, anywhere and engage with our system in a safe and fun way.

A Zero-Risk Offer:
Try College Prep America out for a full 30 days.
If you don't find yourself watching and learning more about yourself and the world you live in, seeing your kids get excited and applying the principles they discover in our program, appreciating the new level of connection you and your family will experience, simply let us know and we'll refund your entire donation.
Do this for your kids.
And do it for this great country of ours which has recently suffered serious setbacks to the views, freedoms and liberties that we enjoy as Christians and as Conservatives.
Click to sign up right here, right now!
Onward and UPWARD,
Jeff Borders, President
CollegePrepAmerica
ThoughtStarter